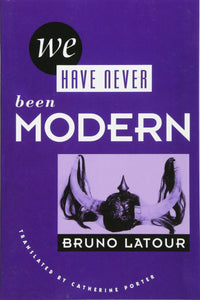 Harvard University Press
We Have Never Been Modern by Bruno Latour
Regular price
$30.00
$0.00
Unit price
per
With the rise of science, we moderns believe, the world changed irrevocably, separating us forever from our primitive, premodern ancestors. But if we were to let go of this fond conviction, Bruno Latour asks, what would the world look like? His book, an anthropology of science, shows us how much of modernity is actually a matter of faith.
What does it mean to be modern? What difference does the scientific method make? The difference, Bruno Latour explains, is in our careful distinctions between nature and society, between human and thing, distinctions that our benighted ancestors, in their world of alchemy, astrology, and phrenology, never made. But alongside this purifying practice that defines modernity, there exists another seemingly contrary one: the construction of systems that mix politics, science, technology, and nature. The ozone debate is such a hybrid, in Latour's analysis, as are global warming, deforestation, even the idea of black holes. As these hybrids proliferate, the prospect of keeping nature and culture in their separate mental chambers becomes overwhelming―and rather than try, Latour suggests, we should rethink our distinctions, rethink the definition and constitution of modernity itself. His book offers a new explanation of science that finally recognizes the connections between nature and culture―and so, between our culture and others, past and present.
Nothing short of a reworking of our mental landscape, We Have Never Been Modern blurs the boundaries among science, the humanities, and the social sciences to enhance understanding on all sides. A summation of the work of one of the most influential and provocative interpreters of science, it aims at saving what is good and valuable in modernity and replacing the rest with a broader, fairer, and finer sense of possibility.
Published by Harvard University Press, 1993, softcover, 168 pages, 9 x 6 inches.
---
Share this
---