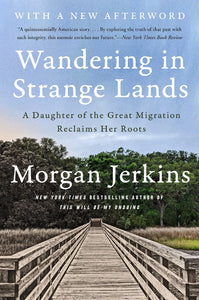 Harper Perennial
Wandering in Strange Lands: A Daughter of the Great Migration Reclaims Her Roots by Morgan Jenkins
Regular price
$17.00
$0.00
Unit price
per
From the acclaimed cultural critic and New York Times bestselling author of This Will Be My Undoing comes the powerful and timely story of her journey to understand her Northern and Southern roots, the great migration, and the displacement of black people across America.
In this fascinating and deeply personal exploration, Morgan Jerkins recreates her ancestors' journeys across America during the movement known as the Great Migration, following the routes they took from Georgia and South Carolina to Louisiana, Oklahoma, and California in search of a better life.
Following in their footsteps, Jerkins seeks to understand not only her own past, but the lineage of an entire group of people who have been displaced, disenfranchised, and disrespected throughout American history. Through interviews, photos, and hundreds of pages of transcripts, Jerkins braids the loose threads of her family's oral histories, which she was able to trace back three hundred years, with the insights and recollections of Black people she met along the way—the tissue of Black myths, customs, and blood that connects the bones of American history.
Incisive and illuminating, Wandering in Strange Lands is a timely and enthralling look at America's past and present, one family's legacy, and a young Black woman's life, filtered through her sharp and curious eyes.
Published by Harper Perennial, 2021, softcover, 304 pages, 8 x 5.3 inches.
---
Share this
---