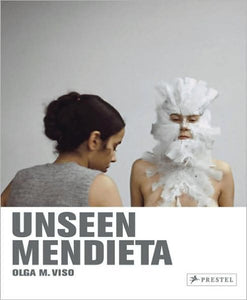 Prestel Publishing
Unseen Mendieta: The Unpublished Works of Ana Mendieta by Olga Viso
Regular price
$45.00
$0.00
Unit price
per
Among the most compelling and iconic images of art in the 1970s are the pioneering investigations of performance and experimental media by Ana Mendieta (1948–1985). Mendieta broke taboos and exploded the boundaries of fine art at every turn of her short career. Despite major survey exhibitions by museums in the United States, Europe, and Latin America over the last decade, however, a large body of her work remains unknown.
An American artist born in Cuba, Mendieta explored her Caribbean roots through the lens of exile in her work. She meticulously documented her ephemeral site-specific artworks, on beaches and in rivers, across flowery fields, and against walls of rock. Here for the first time, Olga Viso, the leading authority on the artist, presents a beautifully curated representative selection of photographs and drawings from the artist's archive, only a small selection of which has been previously published.
The volume traces Mendieta's early studies as an art student in Iowa; the genesis of her signature works, the archetypal female forms known as siluetas; and public art projects, including ones being developed at the time of her tragic death in 1985. Interspersed throughout are revealing pages from Mendieta's notebooks: sketches, shopping lists for materials, recipes for gunpowder mixtures, and photographic source materials. Viso's accompanying essay reveals the artist's experimental approach and rigorous working methods, provides insights into the forces that inspired and shaped her work, and shows how the genius of Mendieta's vision has survived its physical manifestations.
Published by Prestel Publishing, 2008, hardcover with jacket, 303 pages, 12 x 10 inches.
---
Share this
---