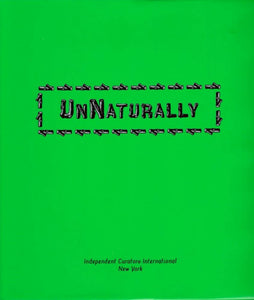 Independent Curators International
UnNaturally
Regular price
$21.00
$0.00
Unit price
per
This publication accompanies UnNaturally—an exhibition of contemporary art that reflects the artificiality of a world reshaped and rearranged to fit with our idealized notions of nature.
UnNaturally features works by fifteen artists—Chris Astley, Gregory Crewdson, Jacci Den Hartog, Allan deSouza, Keith Edmier, Iñigo Manglano-Ovalle, Jason Middlebrook, Nicoletta Munroe, Roxy Paine, Michael PIerzynski, Marc Quinn, Michelle Segre, Alyson Shotz, Frances Whitehead, and Clara Williams—who employ artificial materials to create simulations of nature, exploring the ways in which the boundaries between nature and culture are sometimes blurred, and raising provocative questions about our mediated environment. These works play on our nostalgia for an idealized pre-industrial past in which man and nature coexisted harmoniously in an unspoiled landscape, the same nostalgia that has given rise to constructed environments in malls, zoos, and other themed "entertainment destinations" where nature is tamed and packaged for consumer use.
Published by Independent Curators International, 2003, softcover with jacket, 72 pages, 10.25 x 9.25 inches.
---
Share this
---