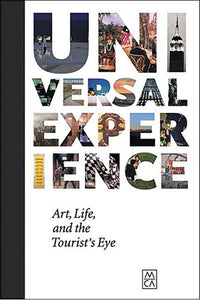 MCA Chicago
Universal Experience: Art, Life, and the Tourist's Eye
Regular price
$29.95
$0.00
Unit price
per
Through the lens of such disciplines as anthropology, sociology, economics, art criticism, and travel writing, Universal Experience is both a sizable illustrated catalogue of the exhibition at the MCA, February 12–June 5, 2005, and a companion to the experience of contemporary travel and tourism.
This volume draws on the proliferation of research surrounding the social, geographic and cultural dimensions of mobility and outputs this information as an anthology of articles, essays and excerpts. The primary focus of the exhibition, however, is on artworks created by a group of international visual artists who create work in response to travel among multiple cultures—both high and low, and local and foreign. While serving as a "travel guide" to the latest sociological and political research and commentary on tourism and travel, Universal Experience also features a compelling mix of text and more than 170 images in an engaging format that will appeal to high scholars and popular audiences alike.
Artists range from well-knowns, like Rem Koolhaas, Andy Warhol, Vito Acconci, Jeff Koons, and Ilya and Emilia Kabakov, to emerging artists, such as Franz Ackermann, Mathias Muller, Shirana Shahbazi, Yukata Sone, Pascale Marthine Tayou, and Piötr Uklanski. Complementing and illuminating the works of these artists is a collection of written works by Francesco Bonami, Carol Becker, Alain de Botton, Nancy Spector, Susan Sontag, Lucy Lippard, Robert Fitzpatrick, and others.
Published by MCA Chicago, 2005, softcover, 272 pages, 9 x 6 inches.
---
Share this
---