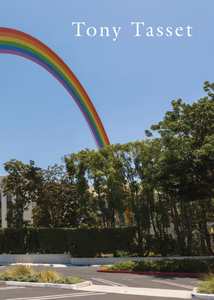 Kavi Gupta
Tony Tasset
Regular price
$12.00
$0.00
Unit price
per
This catalogue features full-color illustrations of works and exhibitions, as well as an essay, by the artist.
Tony Tasset (b. 1960, USA) creates work that engages with the principle that the formation and understanding of our history is crucially affected by the manner in which our most esteemed objects are displayed and how our most cherished narratives are told—an approach that hearkens to McLuhan's axiom "the medium is the message." Works like Hot Dog Man (2011), Bear (2012), or Rainbow (2012) have come to epitomize Tasset's practice. Referencing the fiberglass advertisements common in America's Midwest and on eastern seaboard boardwalks, these sculptures tap into a tradition of amusement and advertising culture, presenting them within the context of fine art in a synthesis that equates dichotomous ends of the traditional cultural evaluative spectrum.
Published by Kavi Gupta, 2018, softcover, 160 pages, 7 x 5 inches.
---
Share this
---