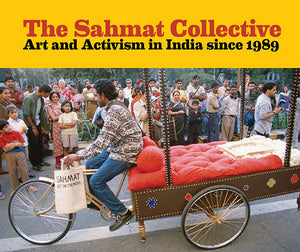 Smart Museum of Art
The Sahmat Collective: Art and Activism in India since 1989
Regular price
$35.00
$0.00
Unit price
per
Founded in 1989, the influential Delhi-based artists' organization Sahmat has offered a platform for artists, writers, poets, musicians, and actors to create and present works that promote artistic freedom and secular, egalitarian values. A companion to an exhibit of the same name at the Smart Museum of Art, The Sahmat Collective explores the contemporary art scene in Delhi while meditating on the power of art as a tool for social change.
The Sahmat Collective documents the history of the organization through a series of case studies, each presenting new scholarship, vivid images, reprints of original articles, essays, and interviews with the artists and organizers of each project. Situating the collective within not only the political sphere in India, but also contemporary art trends from around the world, this beautifully illustrated volume offers both critical essays on the art produced by Sahmat and texts on the political, social, and artistic climate in India by Smart Museum staff members, philosophers, musicians, members of Sahmat, art historians, anthropologists, and artists.
Edited and with texts by Jessica Moss and Ram Rahman.
Published by the Smart Museum of Art at the University of Chicago, 2013, softcover, 300 pages, 9.5 x 11.5 inches.
---
Share this
---