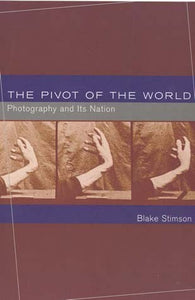 MIT Press
The Pivot of the World by Blake Stimson
Regular price
$24.00
$0.00
Unit price
per
A study of three photographic projects that emerged in the 1950s—The Family of Man, Robert Frank's The Americans, and Bernd and Hilla Becher's typological record of industrial architecture—that expressed the modern desire for social belonging and the dream of nation.
The old dream of social belonging and political sovereignty—the dream of nation—was fraught with anxiety and contradiction for many artists and intellectuals in the 1950s. On the one hand, memories of the Second World War remained vivid and the chauvinism that had enabled it threatened to return with the growing tensions of the Cold War. On the other hand, the need to bind together into a new global identity—into a world nation or "family of man"—seemed ever more pressing as a bulwark against the rapidly expanding threat of a nuclear World War III.
The Pivot of the World looks at an exceptional effort to work out that geopolitical tension by cultural means as developed in three hugely ambitious photographic projects: The Family of Man exhibition that opened in 1955 and traveled the world for the next decade; Robert Frank's influential book The Americans, photographed in 1955–1956 and first published in 1958; and Bernd and Hilla Becher's typological record of industrial architecture, begun in 1957 and continuing today. Each of these projects worked to release the dream of nation—of belonging and sovereignty—from its old civic trappings through the medium of photography's serial form, in the experience of one photograph followed by another and another and another, so that all seem at once intimately connected and at the same time autonomous and distinct. Innovations in the serial composition of photographic form could open new possibilities for social form while the modern desire for political belonging could be made cosmopolitan, could be globalized—but in the most human of ways. This epic sense of purpose lasted only for a moment—it had already passed by the beginning of the 1960s—but it bears particular interest for any historical understanding of the contest over globalization that continues to hold such great consequence for us now.
Published by MIT Press, 2006, softcover, 232 pages, 9 x 6 inches.
---
Share this
---