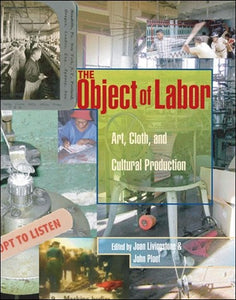 MIT Press
The Object of Labor: Art, Cloth, and Cultural Production
Regular price
$40.00
$0.00
Unit price
per
Essays and artists' projects explore the ubiquity of cloth in everyday life and the effect of globalization on art and labor; with more than 100 color images.
The Object of Labor explores the personal, political, social, and economic meaning of work in the context of art and textile production. The ubiquity of cloth in everyday life, the historically resonant relationship of textile and cloth to labor, and the tumultuous drive of globalization make the issues raised by this publication of special interest today. The seventeen essays cover topics ranging from art-making practices to labor history and the effects of globalization as seen through art and labor. The artists' projects―twelve striking and beautiful eight-page, full color spreads―conduct parallel investigations into art, cloth, and work.
The contributors explore, from historical and personal perspectives, such subjects as the charged history of offshore garment workers; the different systems of production and consumption in factories, homes, studios, and exhibitions; the revelation of class, gender, and sexuality through cloth, costume, and textile images; textile production as commemorative acts in South Africa, the United States, and India; transnationalism, cultural hybridity, and race in the work of individual artists; lost histories of garment production and embroidery; the physical act of art-making as labor; and the value of handmade and "technologically improved" objects.
Featuring artist projects and portfolios by Susie Brandt, Nick Cave, Park Chambers, Lisa Clark, Lia Cook, Ann Hamilton, Kimsooja, Barbara Layne and Sue Rowley, Lara Lepionka, Merrill Mason, Darrel Morris, Pepón Osorio, J. Morgan Puett and Iain Kerr, Karen Reimer, Yinka Shonibare, SubRosa, Christine Tarkowski, and Anne Wilson.
Edited by Joan Livingstone and John Ploof. Designed by Ann Tyler.
Published by MIT Press, 2007, hardcover with jacket, 422 pages, 9.25 x 7.25 inches.
---
Share this
---