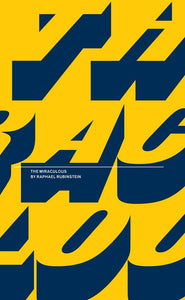 Paper Monument
The Miraculous by Raphael Rubinstein
Regular price
$16.00
$0.00
Unit price
per
The Miraculous presents the artistic avant-gardes of the last five decades as a tapestry of incidents as fascinating and unlikely as any collection of myths or legends. Thinking more of Kafka's Parables than Vasari's Lives of the Artists, Rubinstein composes a series of micro-narratives celebrating the mystery and ingeniousness of these human activities which, for lack of a better term, we call contemporary art.
Each of the fifty episodes in The Miraculous is a richly detailed telling of the circumstances surrounding a single work of art; only the name of the artist is withheld until the end of the book. As Michael H. Miller wrote describing the book in ARTnews: The works take on the icy detachment of a Lydia Davis story, a floating concept with no clear context. Distilled to only an idea, the pieces bask in their more intriguing narratives and separate themselves from the heavy baggage of authorship and intention.
Includes writing on fifty artists, including Joseph Beuys, Yoko Ono, Marina Abramovic, Lee Lozano, Tseng Kwong Chi, Cindy Sherman, David Hammons, and R.H. Quaytman.
Published by Paper Monument, 2014, softcover, 72 pages, 8.5 x 5.2 inches.
---
Share this
---