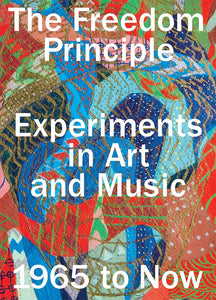 MCA Chicago
The Freedom Principle: Experiments in Art and Music, 1965 to Now
Regular price
$35.00
$0.00
Unit price
per
On the South Side of Chicago in the 1960s, African American artists grappled culturally, politically, and organizationally with the black nationalist turn in the United States Civil Rights movement. Experiments in music, the visual arts, performance, and other forms—as well as in the institutional structures of art making and training—left their mark on many participants. The significance of that moment continues to inform, even haunt, contemporary searches for both individual and collective freedom within the context of today's black avant-garde. The intergenerational story of this quest for freedom—from the "ancient to the future," as the Art Ensemble of Chicago put it—is the topic of the book The Freedom Principle: Experiments in Art and Music, 1965 to Now, which accompanies the exhibition appearing at the Museum of Contemporary Art Chicago.
The book coincides with the fiftieth anniversary of the founding of the Association for the Advancement of Creative Musicians (AACM), a still-flourishing organization of Chicago musicians who challenge jazz's boundaries. Its title is taken from a phrase coined by Chicago jazz critic John Litweiler, The Freedom Principle includes artworks by AACM-founder, pianist, and painter Muhal Richard Abrams; Art Ensemble of Chicago bandleader Roscoe Mitchell; and AFRICOBRA cofounders Jeff Donaldson, Jae and Wadsworth Jarrell, Barbara Jones-Hogu, and Gerald Williams. Archival materials—brochures, banners, photographs, posters, sheet music, record covers—provide a rich context for essays by curators Naomi Beckwith and Dieter Roelstraete, as well as Chicago music expert and gallerist John Corbett, award-winning AACM composer, musician, and historian George Lewis, AFRICOBRA art historian Rebecca Zorach, a roundtable conversation with AACM cellist Tomeka Reid, Chicago scholar Romi Crawford, and artist and curator Hamza Walker, and an afterword by poet and critic Fred Moten.
A selected discography and chronology are featured in the book along with the presentation of contemporary art works by Terry Adkins, Nick Cave, Rashid Johnson, Cauleen Smith, Catherine Sullivan, and Stan Douglas—all of which present evocative engagements with the legacies of AACM, AFRICOBRA, and the larger Black Arts Movement of the 1960s. 
The Freedom Principle is organized by Naomi Beckwith, Marilyn and Larry Fields Curator, and Dieter Roelstraete, Manilow Senior Curator, at the Museum of Contemporary Art Chicago.
Published by MCA Chicago and the University of Chicago Press, 2015, hardcover, 320 pages, 10 x 7 inches.
---
Share this
---