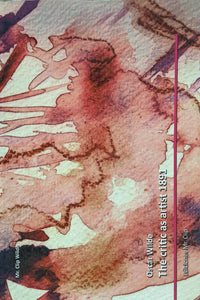 Ediciones Mr. Clip
The Critic as Artist (1891) by Oscar Wilde
Regular price
$12.00
$0.00
Unit price
per
"The Critic as Artist" is an essay by Oscar Wilde, containing the most extensive statements of his aesthetic philosophy. A dialogue in two parts, it is by far the longest one included in his collection of essays titled Intentions published in May 1891. "The Critic as Artist" is a significantly revised version of articles that first appeared in the July and September issues of The Nineteenth Century, originally entitled The True Function and Value of Criticism. The essay is a conversation between its leading voice Gilbert and Ernest, who suggests ideas for Gilbert to reject.

The essay sets to collapse the distinction between fine art and criticism cherished by artists and critics such as Matthew Arnold and James Abbott McNeill Whistler—only critical faculty enables any artistic creation at all, while criticism is independent of the object it criticises and not necessarily subject to it. The essay champions contemplative life to the life of action. It is criticism rather than emotional sympathies, abstract ethics, or commercial advantages that would make us cosmopolitan and serve as the basis of peace.
Published by Ediciones Mr. Clip, 2014, softcover, 85 pages, 9 x 7 inches.
---
Share this
---