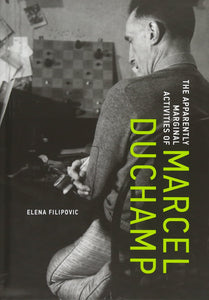 MIT Press
The Apparently Marginal Activities of Marcel Duchamp by Elena Filipovic
Regular price
$39.95
$0.00
Unit price
per
A new understanding of Marcel Duchamp and his significance as an artist through an investigation of his non-art activities—archiving, art-dealing, and, most persistently, curating.
This groundbreaking and richly illustrated book tells a new story of the twentieth century's most influential artist, recounted not so much through his artwork as through his "non-art" work. Duchamp is largely understood in critical and popular discourse in terms of the objects he produced, whether readymade or meticulously fabricated. Elena Filipovic asks us instead to understand Duchamp's art through activities not normally seen as artistic—from exhibition making and art dealing to administrating and publicizing. These were no occasional pursuits; Filipovic argues that for Duchamp, these fugitive tasks were a veritable lifework. Drawing on many rarely seen images, Filipovic traces a variety of practices and projects undertaken by Duchamp from 1913 to 1969, from his invention of the readymade to the release of his last, posthumous work. She examines Duchamp's note writing, archiving, and quasi-photographic activities, which resulted in the Box of 1914 and the Green Box; his art dealing, marketing, and curating that culminated in experimental exhibitions for the Surrealists and his miniature museum, The Boîte-en-valise; and his administrative efforts and clandestine maneuvering in order to posthumously embed his Étant donnés into a museum. Demonstrating how those activities reflect the artist's questioning of reproduction and originality, as well as photography and the exhibition, Filipovic proposes that Duchamp's "non-art" labor, and in particular his curatorial strategies, more than merely accompanied his more famous artworks; in a certain sense, they made them. Through Duchamp's elusive but vital activities he revised the idea of what a modern artist could be. With this fascinating book, Filipovic in turn revises the very idea of Duchamp.
Published by MIT Press, 2016, hardcover with jacket, 360 pages, 10 x 7 inches.
---
Share this
---