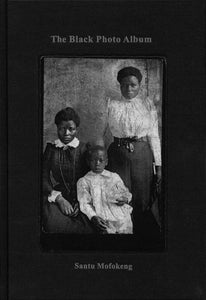 Steidl
Santu Mofokeng: The Black Photo Album / Look at Me: 1890–1950
Regular price
$50.00
$0.00
Unit price
per
This book is a reproduction of the artwork The Black Photo Album / Look at Me: 1890–1950 by Santu Mofokeng (1956–2020). It includes selections from Mofokeng's field notes, as well as contributions by James T. Campbell.
As much a research project as it is a work of art, The Black Photo Album / Look at Me: 1890–1950 is comprised of private photographs that the artist collected and retouched over a number of years. The original images were commissioned by urban black working and middle-class families in South Africa between 1890 and 1950, a time when the government was entrenching policies towards those designated as natives. Painterly in style, the images evoke the artifices of Victorian photography. Some of them are fiction, a creation of the artist in terms of setting, props, clothing, and pose, yet there is no evidence of coercion. We believe these images, as they reveal something about how the people in the frames imagined themselves. 
In this work, Mofokeng analyses the sensibilities, aspirations, and self-image of the black population and its desire for representation and social recognition in times of colonial rule and suppression.
Published by Steidl, 2013, clothbound hardcover, 152 pages, 10.75 x 7.25 inches.
---
Share this
---