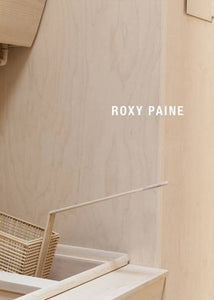 Kavi Gupta
Roxy Paine
Regular price
$10.00
$0.00
Unit price
per
This catalogue features full-color illustrations of works by the artist and his exhibition at Kavi Gupta, with text by Christian Viveros-Fauné.
Roxy Paine (b. 1966, USA) is a multi-media artist whose work is inspired by the tensions that exist between humans, machines, and the natural environment. In a body of work that spans from the monumental to the microscopic, Paine creates systems and mechanisms that process organic entities. The results are uncanny visual relics that cause viewers to grapple with the ways humans attempt to impose order on nature. Much famed for his life-size, stainless steel recreations of trees, Paine's diverse practice constantly evaluates relationships between materials, processes, and forms. His practice necessarily challenges both the integrity of authorship and the divide between what we characterize as "organic" and "synthetic."
Published by Kavi Gupta, 2015, softcover, 64 pages, 7 x 5 inches.
---
Share this
---