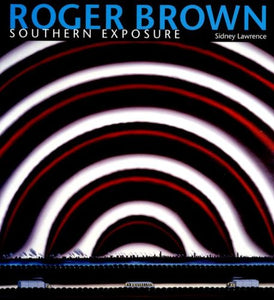 University of Alabama Press
Roger Brown: Southern Exposure
Regular price
$29.00
$0.00
Unit price
per
Visionary art by an Alabama native who grew to affect the world far beyond his small-town southern roots.
The work of Roger Brown—a nationally celebrated artist, innovator of the Chicago "Imagist" movement, and an Alabama native—has been exhibited many times and is held in numerous collections, public and private. However, no view of his life and work is as personal as Roger Brown: Southern Exposure. This book highlights a very intimate side of Brown's oeuvre: his connection to family and his southern roots.
From his early childhood drawings to paintings made in his homes in Chicago, Michigan, and California, and then his return to Alabama, we witness the talent of a boy turned artist and social critic. The son of a grocer/restaurateur and an artistically inclined housewife, Brown grew up in Opelika watching his father build things, his mother collect cherished mementos, and his younger brother's first endeavors as an artist.
Brown's southern heritage remained relevant throughout his career, and he himself noted that his work was "about" wherever he was at the time, what involved him intellectually, and his personal experiences. Laced with social commentary on politics, religion, and art, Brown inevitably filtered his work through his small-town southern roots, acknowledging the centrality of religious piety, moral obligation, and close-knit family ties. Also evident is Brown's interest in the creations of self-taught artists that he witnessed as a boy and in travels through the south. He found pleasure in seeking out the mundane, the used, and kitsch found in flea markets and thrift shops. These objects of ephemera became both inspiration and elements in his work.
His works of art remain timely for their emphasis on the visual rhetoric of location, politics, the art world, and popular culture. They are testaments to the comprehension and visionary talent of an Alabama boy who grew to have an impact on the world far beyond his small-town southern roots.
Published by the University of Alabama Press, 2007, softcover, 68 pages, 11 x 10 inches.
---
Share this
---