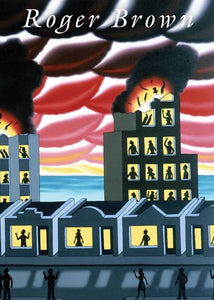 Kavi Gupta
Roger Brown
Regular price
$12.00
$0.00
Unit price
per
This catalogue features full-color illustrations of works by the artist and the exhibition at Kavi Gupta.
Roger Brown (b. 1941, USA) was an influential painter associated with the Chicago Imagists. His distinctive figurative style of painting intentionally blends the traditions of fine art and folk art. His work is socially charged, addressing topics such as pop culture, sexual and gender issues, religion, and politics. The signature style he developed is dominated by silhouetted figures, vivid colors, and hard-edged figurative shapes. Raised in the American south, and educated in the Midwest, at the Art Institute of Chicago, his visual vernacular references a mixture of agriculture, small town life, and modern urban architecture.
Published by Kavi Gupta, 2013, softcover, 104 pages, 7 x 5 inches.
---
Share this
---