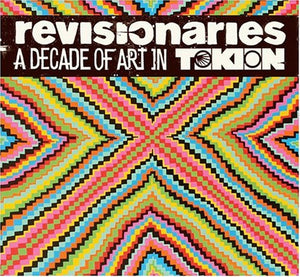 Abrams Image
The Revisionaries: A Decade of Art in Tokion
Regular price
$29.95
$0.00
Unit price
per
In the last fifteen years, a tremendously vibrant youth culture movement has emerged made up of DIY artists and creators, who are descended from and inspired by the 1970s to '80s underground movements of punk, hip-hop, and skateboarding. These predecessors set the foundation for the current movement—which in the broadest sense can be called "street culture"—with their ability to work outside of the traditional fine art establishment through their own network of independent newspapers, zines, books, music, film, and galleries. Today's renegade artists blur the lines between graffiti, graphic design, folk art, and stoned doodling. From streetwalls to T-shirts, sneakers, and toys, the works of these artists are instantly recognizable and are defining today's aesthetic.
In The Revisionaries, the editors of Tokion, a magazine at the helm of discovering and covering new talent, gather all of these artists in one book. Organized into three sections—graphic arts, folk art, and psychedelia—and with introductory bios and interviews with such artists as Shepherd Fairey, Geoff McFetridge, Ryan McGinness, Swoon, and many more, this book is an indispensable guide to the artists of today and tomorrow.
Published by Abrams Image, 2007, hardcover, 160 pages, 9.5 x 8.7 inches.
---
Share this
---