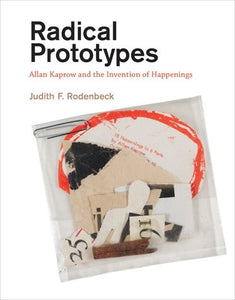 MIT Press
Radical Prototypes: Allan Kaprow and the Invention of Happenings by Judith F. Rodenbeck
Regular price
$19.75
$0.00
Unit price
per
An examination of an experiential and experimental art form that, despite its evanescence, has shaped participatory art into the present.
"Happenings" have pop connotations that conjure up 1960s youth culture and hippies in public, joyful rebellion. Scholars, meanwhile, locate happenings in a genealogy of avant-garde performance that descends from futurism, surrealism, and Dada through the action painting of the 1950s. In Radical Prototypes, Judith Rodenbeck argues for a more complex etiology. Allan Kaprow coined the term in 1958 to name a new collage form of performance, calling happenings "radical prototypes" of performance art. Rodenbeck offers a rigorous art historical reading of Kaprow's project and related artworks. She finds that these experiential and experimental works offered not a happy communalism but a strong and canny critique of contemporary sociality. Happenings, she argues, were far more ambivalent, negative, and even creepy than they have been portrayed, either in contemporaneous accounts or in more recent efforts to connect them to contemporary art's participatory strategies.
In Radical Prototypes, Rodenbeck recovers the critical force of happenings, addressing them both as theoretical objects and as artworks, investigating broader epistemological and formal concerns as well as their material and performative aspects. She links happenings to scores by John Cage (especially 4'33"), avant-garde theater, and photography, and offers new readings of projects ranging from Kaprow's 18 Happenings in 6 Parts (1959) to Gerhard Richter's Leben mit Pop (1963).
Rodenbeck casts happenings as a form of participatory art that simultaneously delivers a radical critique of that very participation—a view that revises our understanding of contemporary constructions of the participatory as well as of 1960s projects from Fluxus to conceptual art.
Published by MIT Press, 2014, softcover, 312 pages, 9 x 7 inches.
---
Share this
---