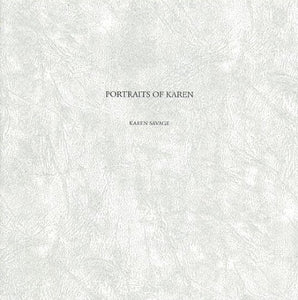 Sara Ranchouse Publishing
Karen Savage: Portraits of Karen
Regular price
$5.00
$0.00
Unit price
per
In this collection of photographs taken from old yearbooks, Karen Savage presents an odd history of "Karen." Rummaging through forgotten school memories to save these few women from obscurity, she has amassed a group of Karens who seem to share more than a common name. Savage's careful selection and placement of Karens, who through both dress and physical features resemble each other, suggests that one's name could in fact determine one's destiny.
Printed on slick, yearbook-like pages and bound in a marbled cover, this book subtly proposes, "a Karen is a Karen is a Karen."
Edition of 500.
Published by Sara Ranchouse Publishing, 1999, saddle-stitched softcover, 20 pages, 7.75 x 7.75 inches.
---
Share this
---