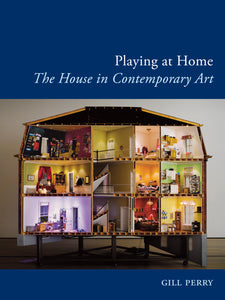 Reaktion Books
Playing at Home by Gill Perry
Regular price
$29.00
$0.00
Unit price
per
Art Since the '80s, a new series from Reaktion Books, seeks to offer compelling surveys of popular themes in contemporary art. In the first book in the series, Gill Perry reveals how the house and the idea of home have inspired a range of imaginative and playful works by artists across the globe. Exploring how artists have engaged with this theme in different contexts—from mobile homes and beach houses to haunted houses and broken homes—Playing at Home shows that our relationship with houses involves complex responses in which gender, race, class, and status overlap, and that through these relationships we turn a house into a home.
Perry looks at the works of numerous artists, including Tracey Emin, Rachel Whiteread, Michael Landy, Mike Kelley, and Peter Garfield, as well as the work of artists who travel across continents and see home as a shifting notion, such as Do-Ho-Suh and Song Dong. She also engages with the work of philosophers and cultural theorists from Walter Benjamin and Gaston Bachelard to Johan Huizinga and Henri Lefebvre, who inform our understanding of living and dwelling. Ultimately, she argues that irony, parody, and play are equally important in our interpretations of these works on the home. With over one hundred images, Playing at Home covers a wide range of art and media in a fascinating look at why there's no place like home.
Published by Reaktion Books, 2014, softcover, 264 pages, 8 x 6 inches.
---
Share this
---