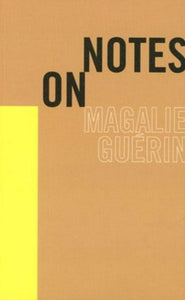 Green Lantern Press
NOTES ON by Magalie Guérin
Regular price
$20.00
$0.00
Unit price
per
NOTES ON is an a-chronological studio diary that artist Magalie Guérin re-transcribed twice by hand and now in print. Through that active facsimile Guérin documents her painting process, mapping at once her creative history and the way that history consistently transforms. Personal, professional, and creative spheres intersect like simultaneous layers in a painting as accumulated entries capture the shifting gray area between self-doubt, self-awareness, and creative breakthrough. A recurring and parallel "character" in this journal is a hat shape—an abstract form that Guérin paints over and over again. Whether anatomical or abstract, the hat shape becomes an anthropomorphic companion as witness/lover/nemesis to Guérin's artistic endeavors. Guérin shows us not only that a room of one's own is useful, but what can happen when it is utilized.
Preface by Caroline Picard. Afterward by Molly Zuckerman-Hartung. Designed by Sonia Yoon.

Published by Green Lantern Press, 2016, softcover, first edition, 240 pages, 8 x 5 inches.
---
Share this
---