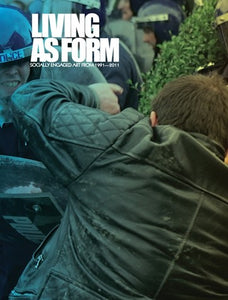 MIT Press
Living as Form: Socially Engaged Art from 1991–2011
Regular price
$45.00
$0.00
Unit price
per
A monumental, lavishly illustrated book that offers the first global portrait of a complex and definition-defying genre of cultural production.
Over the past twenty years, an abundance of art forms have emerged that use aesthetics to affect social dynamics. These works are often produced by collectives or come out of a community context; they emphasize participation, dialogue, and action, and appear in situations ranging from theater to activism to urban planning to visual art to health care. Engaged with the texture of living, these art works often blur the line between art and life. This book offers the first global portrait of a complex and exciting mode of cultural production—one that has virtually redefined contemporary art practice.
Living as Form grew out of a major exhibition at Creative Time in New York City. Like the exhibition, the book is a landmark survey of more than 100 projects selected by a thirty-person curatorial advisory team; each project is documented by a selection of color images. The artists include the Danish collective Superflex, who empower communities to challenge corporate interest; Turner Prize nominee Jeremy Deller, creator of socially and politically charged performance works; Women on Waves, who provide abortion services and information to women in regions where the procedure is illegal; and Santiágo Cirugeda, an architect who builds temporary structures to solve housing problems.
Living as Form contains commissioned essays from noted critics and theorists who look at this phenomenon from a global perspective and broaden the range of what constitutes this form.
Edited by Nato Thompson. Texts by Claire Bishop, Carol Becker, Teddy Cruz, Brian Holmes, Shannon Jackson, Maria Lind, Anne Pasternak, and Nato Thompson.
Published by MIT Press, 2012, hardcover, 264 pages, 10 x 7.25 inches.
---
Share this
---