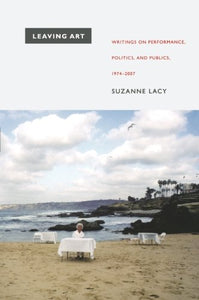 Duke University Press
Leaving Art: Writings on Performance, Politics, and Publics, 1974–2007 by Suzanne Lacy
Regular price
$27.95
$0.00
Unit price
per
Since the 1970s, the performance and conceptual artist Suzanne Lacy has explored women's lives and experiences, as well as race, ethnicity, aging, economic disparities, and violence, through her pioneering community-based art. Combining aesthetics and politics, and often collaborating with other artists and community organizations, she has staged large-scale public art projects, sometimes involving hundreds of participants. Lacy has consistently written about her work: planning, describing, and analyzing it; advocating socially engaged art practices; theorizing the relationship between art and social intervention; and questioning the boundaries separating high art from popular participation.
By bringing together thirty texts that Lacy has written since 1974, Leaving Art offers an intimate look at the development of feminist, conceptual, and performance art since those movements' formative years. In the introduction, the art historian Moira Roth provides a helpful overview of Lacy's art and writing, which in the afterword the cultural theorist Kerstin Mey situates in relation to contemporary public art practices.
Published by Duke University Press, 2010, softcover, 424 pages, 9 x 6 inches.
---
Share this
---