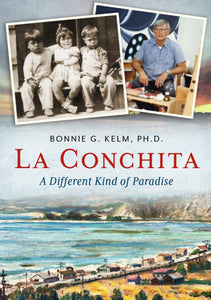 Arcadia Publishing
La Conchita: A Different Kind of Paradise by Bonnie G. Kelm, Ph.D.
Regular price
$23.99
$0.00
Unit price
per
It was through the failed beachfront resort development of 1923 that the tiny enclave of Punta, California, was renamed La Conchita del Mar and promoted as a seaside paradise. La Conchita, however, was destined to become a different kind of paradise. Abandoned by wealthy investors, it was settled by Filipino farmhands, Mexican railroad workers, and white oil workers, and became a unique, multicultural, working-class neighborhood. Total equality marked this early integrated community. At a time when the Civil Rights movement wasn't even on the horizon, in La Conchita, prejudice simply didn't exist. La Conchita's distinct sense of place clashed with the affluent, exclusive communities surrounding it on the Gold Coast. Despite attempts to destroy this perceived misplaced community over the years, like-minded people have been drawn to it like magnets.
Illustrated with over 100 images, the recollections of La Conchita residents reveal untold stories of fascinating people, a few with familiar names and others with names that won't soon be forgotten. This tiny place with a receptive atmosphere also nurtured astonishing historic and cultural landmarks that deserve to be remembered and celebrated.
Bonnie G. Kelm served as an associate professor of art history and museum director at Miami University (Ohio), the College of William & Mary, and the University of California, Santa Barbara, over a thirty-year period. She was a Fulbright Scholar and the recipient of a NEH Fellowship, among other honors.
Published by America Through Time, Arcadia Publishing, 2019, softcover, 96 pages, 9.25 x 6.5 inches.
---
Share this
---