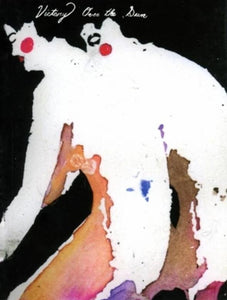 Kavi Gupta
Jo Jackson: Victory Over the Sun
Regular price
$10.00
$0.00
Unit price
per
This catalogue was published on the occasion of Jo Jackson's exhibition Victory Over the Sun at Kavi Gupta Gallery, June 30–August 6, 2006.
Jo Jackson is known for her paintings, animations, and sculptures dominated by recurring provocative images which have included bleeding skulls, silhouettes of the United States, nuclear explosions, animals, and couples copulating. Her distinct use of over saturated hues of pink, turquoise and purple heighten her loaded repetitive symbology. Jackson's often serious and dark subject matter, which traverses the political, personal and social plain, becomes easily digested with a saccharine palette.
Jackson's latest body of work Victory Over the Sun includes a new collection of imagery infiltrating her paintings, as well as a 16mm film. Representations of Yves Klein's "living brushes" and the tragedy linked to this work concerning Klein's early death mingle with repetitive imagery of old skeleton keys, pocket watches, and scattered playing cards addressing the unknown factors of chance and mystery. Dying glaciers also appear as a dark metaphor of a powerful yet fragile mass that is slowly melting away. All of Jackson's personal mythic imagery is still portrayed in her signature hyper-saturated pastels though now the works are on a black ground leading one to think that perhaps Jackson's story is a bit more urgent this time around.
Published by Kavi Gupta, 2006, softcover, 40 pages, 6.5 x 5 inches.
---
Share this
---