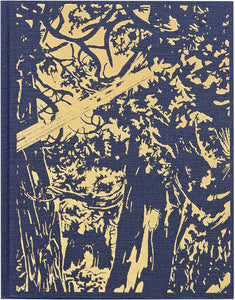 Walker Art Center
Jim Hodges: Give More Than You Take
Regular price
$60.00
Sale price
$65.00
Unit price
per
Jim Hodges is known for his singular ability to transform both everyday and precious materials into poignant meditations on time, loss, identity, and love. Since the late 1980s, Hodges' reconsiderations of the material world have inspired a body of work in which the man-made and artificial are invested with emotion and authenticity.
This volume accompanies the first comprehensive US exhibition of the critically acclaimed American artist. Examining more than 25 years of his artistic career, the Walker-designed catalogue made in close collaboration with the artist weaves together the voices of many to situate his work within issues of identity, social activism, illness, beauty, generosity, and death.
"With a poet's eye and a devotional attitude toward technical refinement, Jim Hodges remains a signal figure" —Artforum
Texts by Jeffrey Grove, Olga Viso, Bill Arning, Susan Griffin, and Helen Molesworth.
Published by the Walker Art Center and Dallas Museum of Art, 2013, foil-stamped, debossed, clothbound hardcover, 256 pages, 10.5 x 8.5 inches.
---
Share this
---