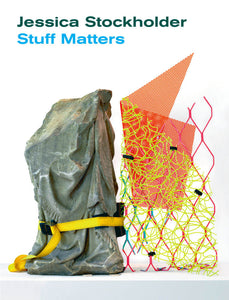 Mousse Publishing
Jessica Stockholder: Stuff Matters
Regular price
$35.00
$0.00
Unit price
per
"Stuff matters. It is vital. Paying attention to stuff is Jessica Stockholder's speciality. This can mean rescuing certain things from the dump, buying others, borrowing what cannot be bought, repurposing what could be used differently. Rarely, however, has she made stuff from raw materials (transformed a tree into a table, for example). In a time when more stuff is being produced than ever before in the history of our planet—so much so that giant garbage patches float in the oceans, endangering ancient life—slowing down to attend stuff, to multiply the use of things, requires a sense of play." —Monika Szewczy
Published in 2019 on the occasion of Jessica Stockholder's exhibition Stuff Matters at the Centraal Museum Utrecht, the catalogue features American-Canadian artist's latest work. For her new all-embracing installation, Stockholder picked a series of pieces from the Museum's collection and mixed them with her own works, exploring how the meaning of things can shift depending on context and juxtaposition.
As with Stockholder's previous works, Stuff Matters is the result of a playful process through which the artist collects things and then assembles them, rewriting meanings and directions. With a sincere, open, and non-hierarchical attitude towards the world, Stuff Matters raises questions about the relationships that tie objects from different contexts, and aims to stimulate imagination and fantasy life.
Edited by Laurie Cluitmans. Texts by Laurie Cluitmans, Ann Lauterbach, Bart Rutten, Jessica Stockholder, Monika Szewczyk, and Ana Teixeiro Pinto. Bilingual in English and Dutch.
Published by Mousse Publishing, 2019, softcover, 195 pages, 10.5 x 8 inches.
---
Share this
---