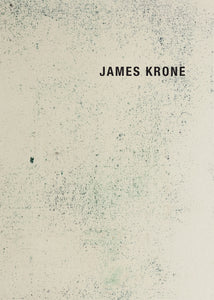 Kavi Gupta
James Krone
Regular price
$5.00
$0.00
Unit price
per
This catalogue features full-color illustrations of works by the artist. 
Producing sculptures, installations, and videos underpinned by his primary practice as a painter, James Krone explores the process of art making—both as a self-referential practice and as a means to comment on philosophical ideas, historical events, and contemporary culture. "I don't like to think of painting on a canvas as going somewhere so much as doing something," he explains. Though never literal, his earlier work was more figurative than his recent abstract paintings and sculptures. For his first gallery exhibition, In Lieu of a Science of Memory (2008), he presented paintings of Jodie Foster, redacted government documents, and Ronald Reagan to hint at the fundamental inscrutability of news-making people and events. Through the abstract canvases in his exhibition Waterhome (2012), Krone investigated the nature of abstraction.
Published by Kavi Gupta, 2013, softcover, 36 pages, 7 x 5 inches.
---
Share this
---