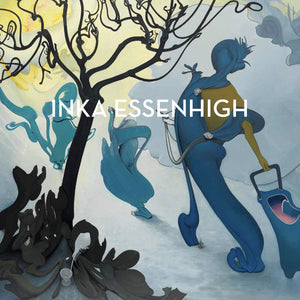 Virginia MOCA
Inka Essenhigh
Regular price
$40.00
$0.00
Unit price
per
In conjunction with the exhibition Inka Essenhigh: A Fine Line at Virginia Museum of Contemporary Art, March 17–August 19, 2018, this first-ever monograph of the artist features full-color images with texts by MOCA's Heather Hakimzadeh and Alison Byrne, Matthew Weinstein, and an interview with former MOCA exhibiting artist Ryan McGuiness and Inka Essenhigh.
Inka Essenhigh creates beautiful paintings through a studio practice that emphasizes experimentation and exploration. Since Essenhigh's emergence into the art world during the late 1990s, she has consistently questioned and redefined her relationship with her media. She moved from using enamel paint to traditional oils and back; creating hybrids of the two. Her substrates include paper, canvas, and panels. Throughout each phase of experimentation, Essenhigh creates dialogues with her work, navigating how the media and brush interact. It is through this approach that her dazzling works are borne.
Published by Virginia MOCA, 2018, hardcover, 216 pages, 11.25 x 11.25 inches.
---
Share this
---