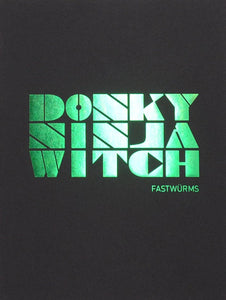 Contemporary Art Gallery
Fastwürms: DONKY@NINJA@WITCH
Regular price
$22.00
$0.00
Unit price
per
This color catalogue, produced by the Contemporary Art Gallery in 2008, was the first to be published on the work of Canadian collaborative team Fastwürms, and accompanied their exhibition DONKY@NINJA@WITCH at The Contemporary Art Gallery, January 25–March 22, 2008.
Fastwürms is a collaboration between Kim Kozzi and Dai Skuse. They have been together since the late seventies as generators of do-it-yourself culture. They began working in super 8 film, producing feature length films that both built and disrupted the flow of conventional narrative structures. Since then they have branched out to embrace a multiplicity of media, but still carry a cinematic sensibility through their art making, creating elaborate sets as stages for performances.
DONKY@NINJA@WITCH is a conflation of aesthetics and symbols, a colourful mixing of metaphors, an awkward clashing of stereotypes and a jumble of iconographies. It is a visual cacophony of clichés and icons related to Witchcraft through popular culture. Fastwürms are Witches, artist Witches who take ancient symbols like the pentagram, and apply a punk do-it-yourself sensibility to them, treating them more as ephemera than ritual objects. This mix of styles, genres, subcultures and identities is common in all of Fastwürms' installations.
Interview with the artist by Jennifer Fisher and Jim Drobnick. Text by Jenifer Papararo.
Published by Contemporary Art Gallery, 2008, softcover with jacket, 72 pages, 10 x 7.5 inches.
---
Share this
---