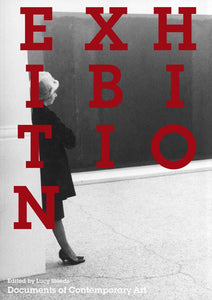 MIT Press
Exhibition
Regular price
$24.00
$0.00
Unit price
per
From the series Whitechapel: Documents of Contemporary Art, produced by London's Whitechapel Gallery and MIT Press.
This anthology provides a multivocal critique of the exhibition of contemporary art, bringing together the writings of artists, curators, and theorists. Collectively these diverse perspectives are united by the notion that although the focus for modernist discussion was individual works of art, it is the exhibition that is the prime cultural carrier of contemporaneity. The texts encompass exhibition design and form; exhibitions that are object-based, live, or discursive; projects that no longer rely on a physical space to be visited in person; artists' responses to being curated and their reflections on the potential of acting curatorially. Set against the rise of the curator as an influential force in the contemporary art world, this volume underlines the crucial role of artists in questioning and shaping the phenomenon of the exhibition.
Artists surveyed include Rasheed Araeen, Art & Language, AA Bronson, Daniel Buren, Graciela Carnevale, Andrea Fraser, Piero Gilardi, Group Material, Richard Hamilton, Huang Rui, Laboratoire Agit-Art, Louise Lawler, Glenn Ligon, Konrad Lueg, Matsuzawa Yutaka, Palle Nielsen, OHO (Marko Pogagnik), Hélio Oiticica, Philippe Parreno, Victor Pasmore, Raqs Media Collective, Gerhard Richter, Ruangrupa, Situationist International, Mierle Laderman Ukeles, Andy Warhol, and Katsuhiro Yamaguchi.
Writers include Judith Barry, Martin Beck, Charles Esche, Patricia Falguières, Elena Filipovic, Patrick Flores, Liam Gillick, Thelma Golden, Hou Hanru, Geeta Kapur, Pablo Lafuente, Lisette Lagnado, Lucy R. Lippard, Miguel A. López, Stuart Morgan, Chika Okeke-Agulu, Yvonne Rainer, Moira Roth, Seth Siegelaub, Wan-kyung Sung, El Hadji Sy, David Teh, Margarita Tupitsyn, Marion von Osten, Anton Vidokle, and Peter Wollen.
Edited by Lucy Steeds.
Published by MIT Press, 2014, softcover, 240 pages, 8.25 x 5.75 inches.
---
Share this
---