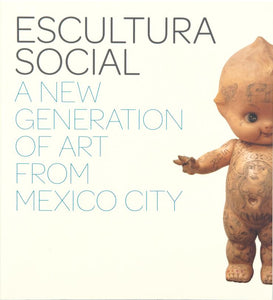 MCA Chicago
Escultura Social: A New Generation of Art from Mexico City
Regular price
$20.00
Sale price
$35.00
Unit price
per
Mexico City has emerged as a thriving center of contemporary art. Escultura Social features work by a group of contemporary artists whose influence has already extended far beyond Mexico and focuses on how they have contributed to an international dialogue through their use of nontraditional materials, new media, and critical perspectives.
This book takes Joseph Beuys's idea of "social sculpture," or escultura social, as a multivalent reference point for understanding how these socially engaged works draw connections between people and nature and promote a demystified and democratic concept of art-making. Featuring the work of twenty artists, this bilingual volume includes several artists' writings by pioneers of artist-run exhibition spaces: Stefan Brüggemann, Abraham Cruzvillegas, Yoshua Okón, and Pedro Reyes. Critical essays on the contemporary Mexican scene and relevance of Beuys's ideas are accompanied by illustrated texts on each artist in this unique and important book.
Edited by Julie Rodrigues Widholm. Texts by Carlos Amorales, Stefan Brüggemann, Mario Garciá Torres, Abraham Cruzvillegas, Yoshua Okón, Pedro Reyes, and Itala Schmelz.
Bilingual in English and Spanish.
Published by MCA Chicago in association with Yale University Press, 2007, hardcover, 224 pages, 10 x 9 inches.
---
Share this
---