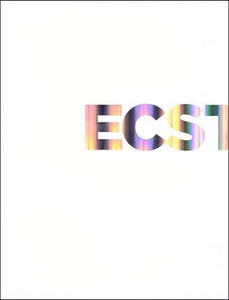 LA MoCA
Ecstasy: In and About Altered States
Regular price
$80.00
Sale price
$99.00
Unit price
per
One copy available, which has slight tearing of jacket.
This landmark catalogue from the Museum of Contemporary Art, Los Angeles, accompanied the exhibition Ecstasy: In and About Altered States, October 2005–February 2006. Ecstasy acts as an intersection in which structures of human consciousness meet a range of contemporary art practices.
An international survey of work by approximately 30 artists exploring altered states and alternative modes of perception, Ecstasy challenges notions of interactivity while generating a heightened aural and visual experience for the individual. Each work in Ecstasy enacts its own particular intervention into human consciousness—surprising us, questioning familiar realities, and suggesting alternative ways of ordering experience—through installation, painting, sculpture, video, film, photography, and new media.
Featured artists include Franz Ackermann, Eija-Liisa Ahtila, Francis Alÿs, Chiho Aoshima, assume vivid astro focus, Massimo Bartolini, Tatsurou Bashi, Glenn Brown, Janet Cardiff and Georges Bures Miller, Olafur Eliasson, Lara Favaretto, Sylvie Fleury, Tom Friedman, Rodney Graham, Jeppe Hein, Carsten Höller, Pierre Huyghe, Ann Veronica Janssens, Ann Lislegaard, Matt Mullican, Takashi Murakami, Paul Noble, Roxy Paine, Charles Ray, Erwin Redl, Pipilotti Rist, Paul Sietsema, Fred Tomaselli, and Klaus Weber.
Six essays accompany the artworks, considering such topics as the relationship of altered states to art-making, both as the manifestation of the artist's state of mind and as an experiential effect created for the viewer; drugs and the process of self-observation in literary works; and the "dark side" of altered consciousness.
Edited by Paul Schimmel and Gloria Sutton. Texts by Carolyn Christov-Bakargiev, Diedrich Diederischsen, Chrissie Iles, Lars Bang Larsen, Midori Matsui, and Paul Schimmel.
Published by LA MoCA and MIT Press, 2005, hardcover with jacket and holographic foil, 248 pages, 11 x 9 inches.
---
Share this
---