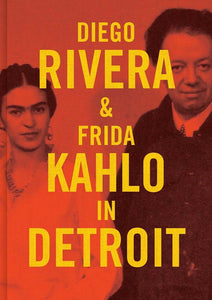 Detroit Institute of Arts
Diego Rivera & Frida Kahlo in Detroit
Regular price
$40.00
Sale price
$50.00
Unit price
per
From April 1932 through March 1933, Diego Rivera (1886–1957) and Frida Kahlo (1907–1954) spent a dramatic and pivotal sojourn in Detroit. Against the backdrop of the Great Depression and amid labor protests in the city, Rivera created his Detroit Industry murals, one of the most important and accomplished works of art made in the United States in the 20th century, for the Detroit Institute of Arts. Kahlo, meanwhile, developed her own artistic identity almost unnoticed, emerging with an oeuvre of extraordinarily expressive work.
For this beautifully illustrated catalogue, Mark Rosenthal and a team of scholars have written essays that examine the artists, the city of Detroit in this period, and the commissioning of the murals by Edsel Ford, the patron, and William Valentiner, then director of the museum. Rivera's cartoons for the murals are highlighted along with new archival research conducted by Rivera's grandson, Juan Rafael Coronel Rivera. Featuring more than 100 color illustrations of works by both artists, this book presents Detroit as a profoundly important place for the artistic development of Rivera and Kahlo.
Texts by John Dean, Cathy Selvius DeRoo, Linda Downs, Christopher Foster, Salomon Grimberg, Jerry Herron, Juan Rafael Coronel Rivera, and Nancy Sojka.
Published by Detroit Institute of Arts, 2015, clothbound hardcover, 248 pages, 11.25 x 8 inches.
---
Share this
---