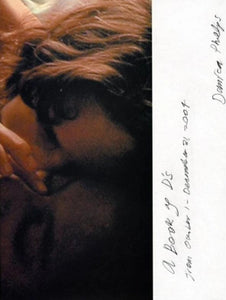 Zach Feuer Gallery
Danica Phelps: A Book of D's
Regular price
$25.00
$0.00
Unit price
per
For ten years, Danica Phelps has been documenting and drawing her life, in visual codes that tracked first her monetary and then later also her erotic activity. Calendars chart the daily comings and goings of an artistic existence, watercolors illuminate amounts spent and gained, and sinuous graphite line drawings record quotidian intimacy between Phelps and her lover Debi.
As Julie Caniglia wrote in Artforum: "There's a mild voyeuristic thrill in scanning the minutae of her daily life, but she epitomizes restraint compared to the self-indulgent tell-all nature of some other female artists her age... This refusal to reveal everything throws the spotlight from her life onto the work itself and the system she's built around it: getting and spending, and doing what one must do not only to get by, but to get something one values—art."
Published by Zach Feuer Gallery / Volume Editions, 2006, softcover, 106 pages, 8 x 6 inches.
---
Share this
---