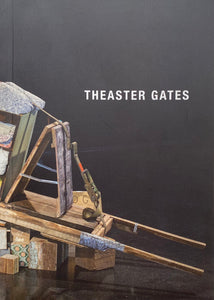 Kavi Gupta
Theaster Gates
Regular price
$10.00
$0.00
Unit price
per
Updated in 2013, this catalogue features full-color illustrations of works by the artist.
Claiming, "I think I'm a full-time artist, a full-time urban planner, and a full-time preacher with an aspiration of no longer needing any of those titles," Theaster Gates makes work focused on racism and poverty in America, and works to make change in downtrodden communities across the country. His practice is grounded in African-American history and culture, and in his own experience growing up on the South Side of Chicago. Slavery, industrial exploitation, and the Civil Rights Movement feature prominently in his sculptures, installations, and performances, into which he incorporates such materials as shoe shine stations and fire hoses. During the 2008 financial crisis, Gates decided to focus on fostering improvement through art. Starting in his own neighborhood and expanding to other communities, he has effectively rejuvenated numerous abandoned buildings, transforming them into vibrant social hubs and cultural spaces.
Published by Kavi Gupta, 2013, softcover, 50 pages, 7 x 5 inches.
---
Share this
---