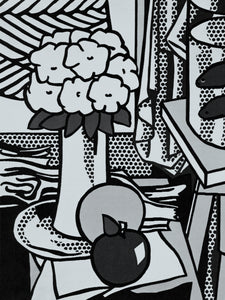 Renaissance Society
Contemporary Still Life — PRICE ON REQUEST
Regular price
$9,999.99
$0.00
Unit price
per
Contact us for pricing. For more information, see our FAQ.
This catalogue accompanies Contemporary Still Life, an exhibition presented at the Renaissance Society, October 8–26, 1974. The exhibition brought together approximately fifty paintings, sculptures, drawings, tapestries, and photographs executed since 1960 with the intention of encouraging a rethinking of the traditionally narrow definition of still life.
Inspired by the "found object" mentality, Pop art iconography of the early 1960s, and even more recently by New Realism, contemporary artists have enlarged the traditionally narrow definition of still life painting through the use of new media and new subject matter. They have extended the genre beyond the fruit-and-flower paintings of earlier times into environment and assemblages. Through the acceptance of new subject matter such as Jasper John's beer cans or Andy Warhol's Brillo boxes, the still life genre has been still further transformed. Due to its flexibility in incorporating new techniques and new subject matter and its ability to successfully span the wide stylistic changes from abstract expressionism to Pop art, still life continues to be a viable and vibrant genre.
The Renaissance Society exhibition is assembled under the old concept of still life as genre, and its unifying principle is each work's concern with common and familiar objects and the representation of these objects as they serve different artistic ends. As stated in the catalogue's Introduction by Anne Rorimer of the Art Institute of Chicago's Department of 20th Century Painting and Sculpture: "In its older and newer, narrower and broader sense, the still life thrives in the art of today, not as a lower class of genre painting, but central to artistic statements of recent years."

Published by the Renaissance Society, 1974, first edition, softcover, 16 pages.
---
Share this
---