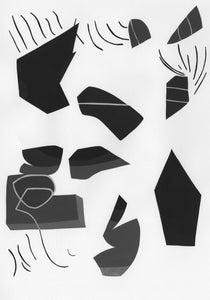 Nieves
Clare Rojas: The Inexhaustible Middle
Regular price
$16.00
$0.00
Unit price
per
Clare Rojas is an internationally shown artist, currently based in San Francisco and is considered to be part of the Mission School. She is "known for creating powerful folk-art-inspired tableaus that tackle traditional gender roles." She works in a variety of media, including painting, installations, video, street art, and children's books. She received her MFA from the School of the Art Institute of Chicago and previously attended the Rhode Island School of Design.
Referencing West Coast modernism, Quaker art, Native American textiles, Byzantine mosaics, and Outsider art, Rojas tells stories through painting, installations, and video. Often her narratives concern relationships between the sexes and among humans and animals, in their struggle to find harmony and balance. Many works quietly celebrate the traditional strengths of women, depicting them like Russian nesting dolls in conventional roles without critical undertones or hints of sexual exploitation. Quilt-like patterns in vivid colors accentuate the folk art-inspired scenes present in some works, while simple geometric forms and stark interiors evoke Bauhaus design in others. Recently, Rojas has focused her attention on the abstract shapes formed by architecture and shadow that dominate interior spaces, producing colorful, precise, abstract compositions on stretched linen.
Numbered edition of 200.
Published by Nieves, 2016, black and white photocopied softcover, 24 pages, 8 x 5.5 inches.
---
Share this
---