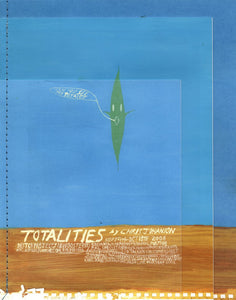 Deitch Projects
Chris Johanson: Totalities
Regular price
$45.00
$0.00
Unit price
per
This board book documents Totalities, Chris Johanson's "contemporary living installation" at Deitch Projects, New York. The theme of the work is the planet Earth and its place in the universe. There is also a meditation on the natural world of plants and animals―how they live within themselves, and how they are affected by humans―with an emphasis on conservation. All of the wood used in the exhibition was recycled, either from New York State, from dumpsters near the artist's Brooklyn studio or from discarded art-shipping crates. The artist even asked his friends and acquaintances for scraps of wood, endeavoring to give his materials a third life.
In this volume, he alludes to the degradation of the planet and the beauty of the world through art, reminding us all of our terrestrial responsibilities.
Published by Deitch Projects, 2010, side-sewn softcover with three page sizes, 112 pages, 12.5 x 9.75 inches.
---
Share this
---