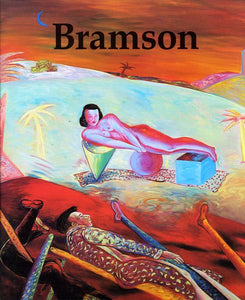 Renaissance Society
Bramson
Regular price
$15.00
$0.00
Unit price
per
Chicago-based painter Phyllis Bramson articulates a rich fabric of dreams, desire, fears and pleasures in vibrant visual poetry, constructing a libidinal, aestheticized world where temperaments, colors, and collars all run hot. Bramson is a foremost figure of the Chicago Imagist School, and her artistic sources are diverse and numerous—ranging from Japanese prints to stage design to decorative motifs from the 1930s, 40s and 50s.
This catalogue of the Renaissance Society's 1986 mini-retrospective of Bramson's mid-career work—Phyllis Bramson, Painting and Drawings: 1973–1986—offers a thorough view of the artist's development, which is marked by stylistic and personal breakthroughs that are dramatically revealed in both Bramson's imagery and choice of media. Dennis Adrian's catalogue essay chronicles the transformations in Bramson's oeuvre through this decisive period, and is an instructive introduction to the surreal beauty of her world. 
Published by the Renaissance Society, 1986, softcover, 46 pages, 10.5 x 9 inches.
---
Share this
---