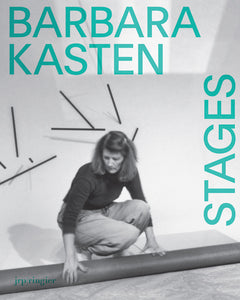 JRP | Ringier
Barbara Kasten: Stages
Regular price
$50.00
$0.00
Unit price
per
Since the 1970s, Chicago-based artist Barbara Kasten (born 1936) has developed her expansive practice of photography through the lens of many disciplines, including sculpture, painting, theater, textile and installation. Spanning her nearly five-decade engagement with abstraction, light and architectonic form, this publication situates Kasten's practice within current conversations around sculpture and photography.
Kasten was one of the first artists to be invited by Polaroid to use its new large-format film, and it was with this that she made many of her best-known works. In the mid-1980s she stepped out of the studio and began working with large architectural spaces that were symbolic of both economic and cultural capital.
Barbara Kasten: Stages is the first major survey of her work. The publication includes a biography of the artist, a conversation between Kasten and artist Liz Deschenes, and new essays by curator Alex Klein and art historians Alex Kitnick and Jenni Sorkin.
Published by JRP | Ringier, 2015, softcover, 208 pages, 11 x 9 inches.
---
Share this
---