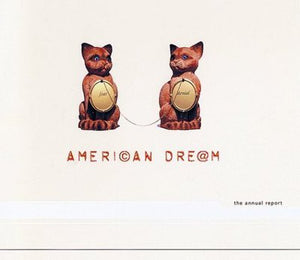 Ronald Feldman Fine Arts
Ameri©an Dre@m: The Annual Report
Regular price
$17.00
$0.00
Unit price
per
An exhibition catalogue with a twist, a who's who of today's socially concerned artists, Ameri©an Dre@m is a document of a timely, topical, and controversial exhibition presented in the format of an annual report to the imaginary shareholders of Ameri©an Dre@m, Inc.
To find out what the American Dream looks like when it is realized, three curators selected artworks by 121 established and less recognized artists working in a wide variety of media, all concerned with subjects that reflect the unique and fertile landscape of current American culture. The result creates a striking snapshot of the art world's consideration of the United States of America during the current tumultuous period.
With work by Ida Applebroog, Diane Arbus, Chris Burden, Renée Cox, Dyke Action Machine!, Tom Friedman, Rico Gatson, Jack Goldstein, Leon Golub, Tana Hargest, Christine Hill, Jenny Holzer, Eduardo Kac, Nina Katchadourian, Komar & Melamid, Nikki S. Lee, Mark Lombardi, Anissa Mack, Jennifer & Kevin McCoy, Roxy Paine, Paul Pfeiffer, William Pope. L, Yvonne Puffer, TMARK, Ed Ruscha, Jason Salavon, Dread Scott, SITE, Mike Smith, Andy Warhol, Allan Wexler, Hannah Wilke, and many, many more.
Published by Ronald Feldman Fine Arts, 2004, softcover, 52 pages, 11 x 10.25 inches.
---
Share this
---