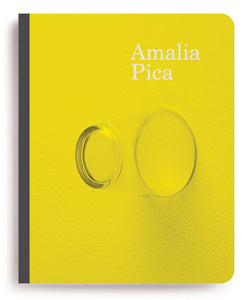 MCA Chicago
Amalia Pica
Regular price
$30.00
$0.00
Unit price
per
This volume accompanies the first major solo museum exhibition in the United States of the work of Argentinean-born, London-based artist Amalia Pica (b. 1978). Pica explores metaphor, communication and civic participation through drawings, sculptures, large-scale photographic prints, slide projections, live performances and installations. Using simple materials such as photocopies, lightbulbs, drinking glasses, beer bottles, bunting and cardboard, Pica creates work that is both formally beautiful and conceptually rigorous. Pica is particularly interested in the limits and failures of language and human communication, and the ways in which thought translates to action, idea to object. Her work is optimistic in its reflection of moments of shared experience, often incorporating signifiers of celebration and communal gatherings such as fiesta lights, flags and banners, and confetti.
This is the fourth volume in the MCA Monographs series.
Interview with the artist and exhibition co-organizers João Ribas and Julie Rodrigues Widholm. Texts by writer Ana Teixeira Pinto, writer and curator Tirdad Zolghadr, Madeleine Grynsztejn, and Paul Ha.
Published by MCA Chicago and MIT List Visual Arts Center, 2013, hardcover with yellow transparent jacket, 112 pages, 10 x 8 inches.
---
Share this
---