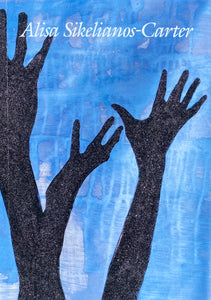 Kavi Gupta
Alisa Sikelios-Carter
Regular price
$12.00
$0.00
Unit price
per
This catalogue features full-color illustrations of works and exhibitions by the artist.
Alisa Sikelianos-Carter is a mixed-media painter from upstate New York. Her work asserts that Black features are a manifestation of a sacred and divine technology that has served as a means of survival, both physically and metaphysically. She envisions a cosmically bountiful world that celebrates and pays homage to ancestral majesty, power, and aesthetics.
Inspired by traditionally Black hairstyles, Sikelianos-Carter uses web and catalogue-sourced images to construct new archetypes. Through her exploration of opulent, luminescent materials she is creating a mythology that is centered on Black resistance and utilizes the body as a sight of alchemy and divinity.
"I want to live in a world in which every micro-aggression, attack on humanity, and doubt of divinity aimed at Black people is destroyed by future-sent deities," says Sikelianos-Carter. "These Godx are completely enveloped and adorned by magnificent cornrows, dreadlocks, and twists. The hairstyles act as armor and weapon, protecting and repelling wearers from white supremacy and misogyny. These are the beings I create. My wildest dreams realized; a marriage between the spectral beings we (as Black people) can and will transform into as a result of the culture we currently live in with the majesty, magic, and tradition of our ancestors."
 Published by Kavi Gupta, 2022, softcover, 100 pages, 7 x 5 inches.
---
Share this
---