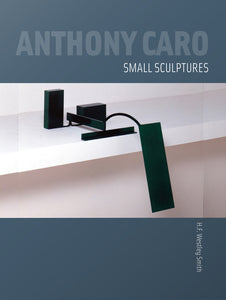 Lund Humphries
Anthony Caro: Small Sculptures by H.F. Westley Smith
Regular price
$40.00
Sale price
$60.00
Unit price
per
Though Anthony Caro's oeuvre is most readily identified by large-scale, plinthless sculptures that sometimes dwarf the viewer, he has directed a significant portion of his energies for over four decades to the production of domestically sized pieces in a variety of media. This volume explores this aspect of Caro's prolific output.
The book is divided into sections that fall along the divisions of medium: table pieces, writing pieces, ceramics, bronzes, paper sculptures, lead and wood sculptures, silver pieces and jewellery. It provides an insight into Caro's working practice by considering the scale, the settings and the materials of Caro's intimate works.
This volume offers an illuminating perspective on Caro's adventurous sense of the appropriate form and function of sculpture as he experimented simultaneously with size, scale and medium.
Please note the remaining copy available is sun-damaged on the spine, but otherwise in excellent condition.
Published by Lund Humphries, 2010, hardcover with jacket, 152 pages, 11 x 9.5 inches.
---
Share this
---