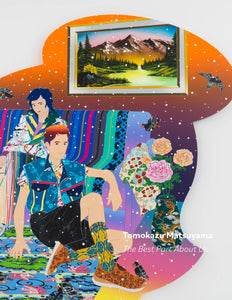 Kavi Gupta
Tomokazu Matsuyama: The Best Part About Us
Regular price
$35.00
$0.00
Unit price
per
Kavi Gupta presents a full-color catalogue celebrating The Best Part About Us, Tomokazu Matsuyama's most ambitious US solo exhibition to date.
This stunning catalogue includes brilliant photography documenting the exhibition, as well as insightful essays examining the impact and influence of Matsu's work by Maritza M. Lacayo, Assistant Curator at PAMM Perez Art Museum Miami; Yi Cao, Curatorial Affairs Director for Arts of Asia at the Art Institute of Chicago; and Phillip Barcio, Associate Director of Interpretations at Kavi Gupta.
Amalgamated from his vast mental and physical archive of iconographical material, Matsuyama's painted worlds vivify his lived experience. His fresh approach to the language of figuration unites our contemporary realities with our multiplicitous pasts. His carefully constructed, fictional landscapes welcome anyone inside to build their own narrative and discover their own meaning. By questioning what is familiar and what is foreign, Matsuyama shows us pictures of others that are also reflections of ourselves. The uncanny process of recognizing the unfamiliar also plays out in the presence of his sculptures, several of which are included in the exhibition and this catalogue. 
"My visual language is a community-based language," Matsuyama says. "My paintings are not intended to inform viewers of specific messages or narratives. These little fractions of everyday culture remind the viewers of narratives in their own life. That leads to ownership. It represents them. It represents me. It represents us. What's the best part? It's subjective."
Published by Kavi Gupta, 2022, softcover with French flaps, 104 pages, 11 x 8.5 inches.
---
Share this
---