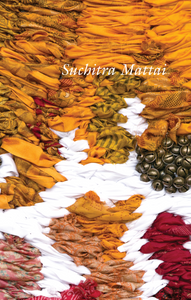 Kavi Gupta
Suchitra Mattai
Regular price
$14.00
$0.00
Unit price
per
This catalogue features full-color illustrations of works and exhibitions by the artist. 

Suchitra Mattai is a multi-disciplinary artist whose work tells visual stories that touch on her Indo-Caribbean lineage. Blending painting, sculpture and installation with methods suggestive of domestic labor which she learned from her grandmother, such as sewing, embroidery and crocheting, the work addresses such topics as the legacy of colonialism, and relationships between culture and gender roles.
Mattai has lived in Guyana, Canada, the United States, India, and Europe. Her work addresses the disorientation of not really having a single home—a feeling that informs much of how Mattai thinks about identity. Found objects, as well as craft-based processes and materials, play an essential role in her practice, in part because of the potentialities that arise from materials with forgotten or erased histories.
"I'm inspired by the mystery of the objects I find," Mattai says. "When I combine multiple objects and mediums in a work, the collective aura translates into a space of new myth and new folktale. It's no longer about history. It's about the immediate, and how the past plays into the contemporary conversation."
Published by Kavi Gupta, 2022, softcover, 48 pages, 8.5 x 5.5 inches.
---
Share this
---