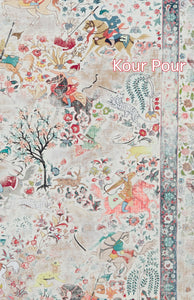 Kavi Gupta
Kour Pour
Regular price
$6.00
$0.00
Unit price
per
This brief catalogue presents an overview of the practice of British-Iranian artist Kour Pour, who has quickly developed a reputation for meticulously composed and delicately rendered artworks which intersect diverse material and aesthetic traditions, allowing for a remapping of the standard understanding of "Eastern/Western" cultural exchange.
Appropriating forms and techniques from numerous cultures and time periods, Pour's truly global vision weaves together representational imagery, abstract patterning, and ornamental elements to create new hybrid artworks—equally ancient, classical, and contemporary—a constellation of influences from Iran, Britain, Egypt, India, and China, among others. Kour's synthesis of image and process often connects different art histories in an attempt to highlight the cultural exchanges that lead to artistic innovation and disrupt the notion of singular originality.
Published by Kavi Gupta, 2022, staple-bound softcover, 24 pages, 8.5 x 5.5 inches.
---
Share this
---