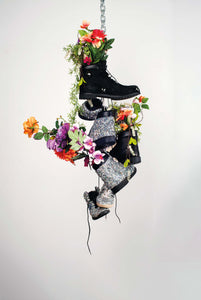 Kavi Gupta
Devan Shimoyama
Regular price
$8.00
$0.00
Unit price
per
Published on the occasion of Art Basel Miami Beach, this slim catalogue documents recent, critical bodies of work by the artist Devan Shimoyama (b. 1989, USA). 

Shimoyama's sculptural works often memorialize the public aspects of Black suffering. For example, his Hoodie series sanctifies Trayvon Martin through the adornment of hoodies; his installation Untitled (for Tamir) includes a bejeweled, flower laden swing set surrounded by glittering teardrops in remembrance of the murder of Tamir Rice; while his monumental installation The Grove, which premiered at the Smithsonian Arts and Industries Building in Washington, DC, used the common sight of shoes thrown over telephone wires as the subject for a gilded shrine to remembrance.
Published by Kavi Gupta, 2022, softcover, 38 pages, 8.5 x 5.5 inches.
---
Share this
---